In 2020, the EU's total number of healthy life years at birth was 64.5 for women and 63.5 for men.
Healthy life years, also called disability-free life expectancy (DFLE), is defined as the number of years that a person is expected to continue to live in a healthy condition. It is based on age-specific prevalence (proportions) of the population in healthy and unhealthy conditions, as well as information on age-specific mortality. A healthy state is one in which one's ability to function is unrestricted and one is free of disability.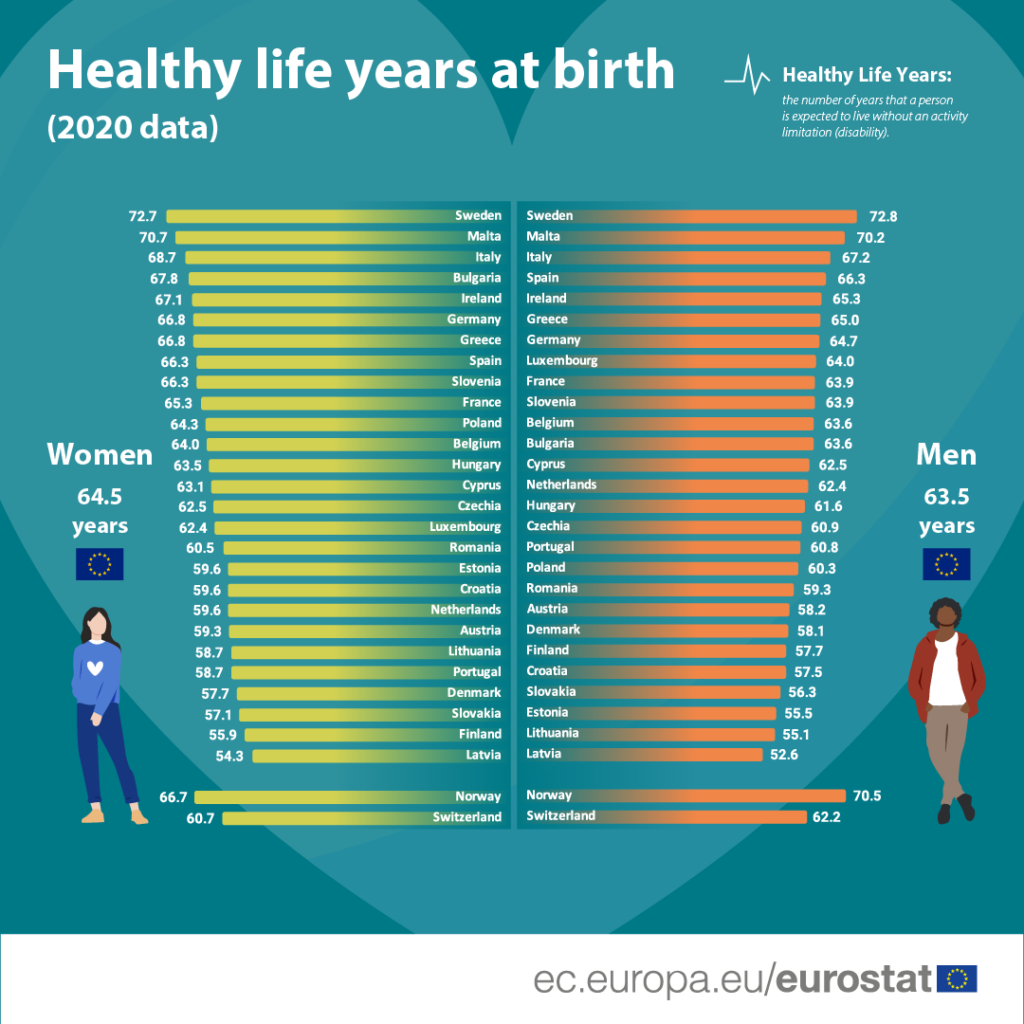 In 2020, women in the EU had a 5.7-year advantage over men in terms of life expectancy at birth (83.2 years compared with 77.5 years). For women and men, healthy life years account for 78 percent and 82 percent of total life expectancy, respectively. As a result, men tend to spend a greater proportion of their relatively shorter lives free of activity restrictions.
Sweden had the highest number of healthy life years at birth for women (72.7 years) among EU Member States in 2020, followed by Malta (70.7 years) and Italy (70.7 years) (68.7 years). Men's numbers were highest in the same three countries: Sweden (72.8), Malta (70.2), and Italy (70.2). (67.2).
Latvia, on the other hand, had the lowest number of healthy life years for both men and women (54.3 years) (52.6 years). Extreme values can be explained in part by the way activity limitation is measured in the country, which has an impact on the results.
In 20 EU Member States, the number of healthy life years at birth was higher for women than for men, with the difference between the sexes being relatively small. The difference was more than two years in seven EU member states, with the largest differences being recorded in Bulgaria (+4.2 years), Estonia (+4.1 years), and Poland (+4.0 years).
On the other hand, in six EU Member States, the number of healthy life years for women was lower than for men. The Netherlands (-2.8 years), Portugal (-2.1 years), and Finland (-2.1 years) had the most significant differences (-1.8 years).
Still have doubts where to buy your next holiday home?
And, if Italy is the right choice, West Liguria is for sure the right region:
Just click here www.liguriahomes.com/en/ to find your next property in Italy.