Italy's residential market has turned a corner with viewings, prices and sales all increasing in 2015.  Confidence is returning to the market but accurate pricing and realistic wish lists are a must for vendors and buyers.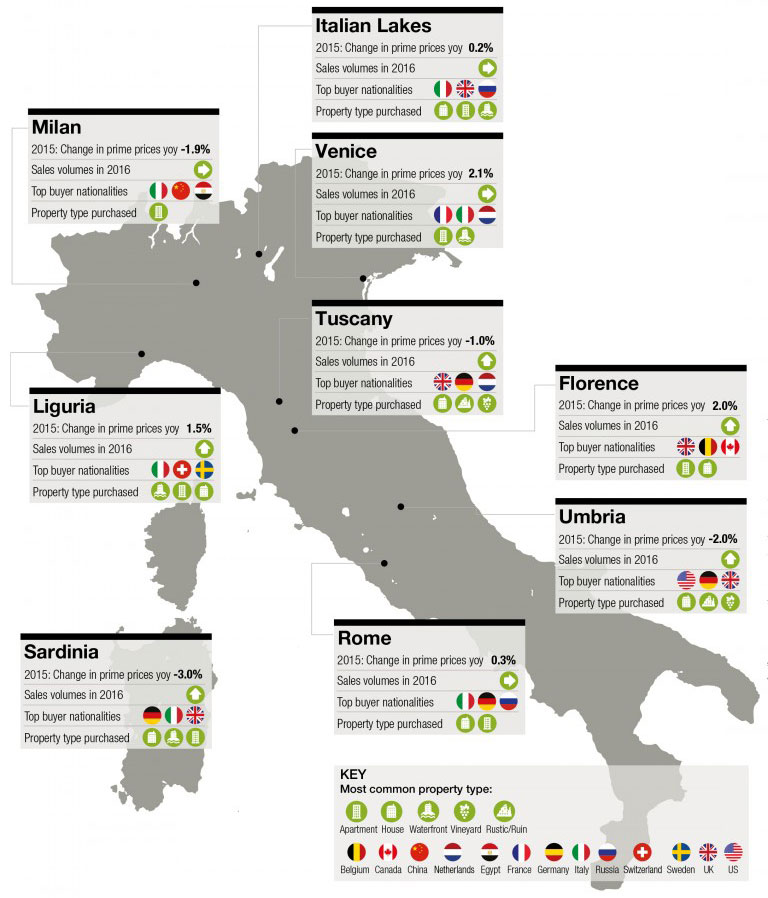 Prices
According to the Italian Statistics Office, 2015 marked a turning point for residential prices with price growth re-entering positive territory. Prime prices, having softened for several years, are following a similar trend. Across Knight Frank's nine prime second-home markets, price performance has converged with annual growth ranging from 2.1% (Venice) to -3% (Sardinia) in 2015.
Although double digit annual price falls are firmly in the past we do not expect luxury prices to increase rapidly. Accurate, sensible pricing by vendors remains critical, particularly given the volume of properties available.
Sales
Market confidence is strengthening, residential sales increased by 7% in 2015 and Italy's consumer confidence index is up 39% since its low in 2012. With properties now competitively priced and the choice of properties at its best for several years those buyers with access to cheap finance and those foreign buyers, able to take advantage of the favourable exchange rate, are deciding to act.
In 2016 we expect sales activity to strengthen in five of our prime markets (Tuscany, Florence, Umbria, Liguria and Sardinia) and to stay broadly stable in the remaining four.
Demand
In 2015 enquiries from buyers looking for an Italian property jumped 57% year-on-year. Tuscany continues to generate the most interest but Liguria and the Italian Lakes (from Como to Maggiore) are increasingly on buyers' radar.
Italy attracts interest on a global scale. In 2015, some 171 nationalities searched for Italian properties on Knight Frank's website with British, Italian, US and German buyers remaining the most active in the prime segment.
Buyers look to be taking advantage of current stock levels. The average number of property viewings undertaken per buyer rose from 2.1 in 2014 to 2.5 in 2015.
Currency
In the last two years, the euro has slipped from 0.83 to 0.73 against the pound and from 1.38 to 1.09 against the dollar providing British and US buyers with a strong buying opportunity in Italy.
Taking account of currency movements only this means a British buyer purchasing a €1m property will have seen a 12% reduction in price (or £98,000 in real terms) whilst a US buyer would have seen a saving of 21% (or $288,000). With QE stimulus still in place across the Eurozone and the dollar likely to strengthen in 2016 on the back of the Federal Reserve's rate rise we expect foreign buyers to continue to benefit
during 2016.
To download the complete Report please click here: "Inside View" by Knight Frank