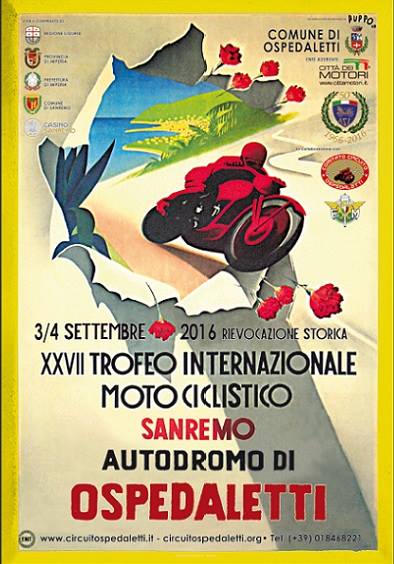 Every two years in Ospedaletti takes place the fabulous revival of vintage motorcycles.
Here you will see motorcycles and riders of yesteryear in an amazing two-day event. The Ospedaletti circuit is nicknamed the mini TT of flowers.
The "Autodromo di Ospedaletti" was the second designated venue for the San Remo Formula One Grand Prix from 1947 to 1951, after the original San Remo street circuit of the 1937 Grand Prix was no longer able to support the changing requirements of post-war Grand Prix racing.
Then, from 1952 up to 1972 the Circuit of Ospedaletti was only home of the motorcycle races, including Sidecar.
To take part in this exclusive event is like taking a dive into the past: the riders and bikes doing battle are the same as they once were. Giacomo Agostini in battle with his arch enemy Phil Read, the great maestro Hailwood, Gallina, Pasolini, Rigamonti, Tenconi, Beltoise, Nougier, Avenbacher, Fath, Knuppertz, Anderson, Sheene, Findlay, Saarinen, Zanetti, Venturi, Bonera and many more who still today, with the same determination of the past and passion in their hearts, parade in an apparently "peaceful" event, but in reality have the same desire as in the past to finish one ahead of the other.