Residential sales in Italy increased by 7% in 2015 according to a new report by Knight Frank – Inside View, Italy 2016. The residential market also saw price growth re-enter positive territory in 2015 and demand is on the rise with buyer enquiries up by 57 per cent year-on-year.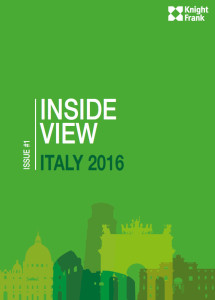 Home sales in Italy rose last year, driven by foreign buyers taking advantage of the attractive exchange rate and snapping up properties in Tuscany, Umbria and Liguria.
The number of residential property transactions in Italy increased by 7% in 2015 while price growth re-entered positive territory, according to a new report by real estate consultancy Knight Frank. The research also found that buyer inquiries were up by 57% from the previous year.
"There are positive signs that the market is strengthening,"said Rupert Fawcett, head of sales in Italy for Knight Frank. "Buyers with access to cheap finance and those foreign buyers able to take advantage of the favorable exchange rate are deciding to act."
Across Knight Frank's nine luxury second-home markets in Italy, price performance in 2015 was highest in Venice, with growth of 2.1%, while the island of Sardinia experienced the greatest decline, dropping 3%.
Knight Frank's data found that users of 171 nationalities searched for Italian properties on its website during 2015, with British, Italian, U.S. and German buyers remaining the most active.
Tuscany, with its rolling hills and Renaissance architecture, continues to generate the greatest interest from buyers. Slightly more rugged Umbria comes in second. According to Knight Frank, buyers rarely look at both, but the price gap between regions is narrowing as properties in Tuscany, the more expensive of the pair, more frequently need modernizing.
For opportunities beyond the big two, Liguria—a long-time holiday home destination for Italian buyers—is regaining its appeal with British, American and northern European buyers. The western side of the region is easily accessible from the Nice airport and offers far greater value for money than the Cote d'Azur. Liguria's coastal towns, such as San Remo and Bordighera, are enjoying a resurgence in popularity.
Currency fluctuations over the past two years have boosted the purchasing power of British and American buyers in Italy. A British buyer purchasing a €1 million property in January 2016 would have seen a 12% price reduction compared to the same period two years ago, while a U.S. buyer would have saved $288,000, the equivalent of a 21% price cut.
Of course, the increase is not entirely due to foreign buyers. Italy's consumer confidence index is up 39 percent since 2012 and continues to grow. GDP growth also re-entered positive territory after a stagnate 2014 and years of shrinking.
Unlike in New York, however, future growth in Italy will depend not on the world's affluent choosing to invest in real estate but rather on lifestyle appeal.
"Italy is very much lifestyle driven," Mr. Fawcett said. "Buyers choose Italy not for investment reasons, but for all the various lifestyle factors it offers from food and wine to architecture, history and culture to relaxed living – coastal destinations and rolling hills filled with vines and cypress trees; shopping and entertainment.
"Many other European countries offer this, but not in such variety and with something for everyone," he said. "Ongoing ownership and tax costs in Italy are relatively small compared to some other countries – there is no wealth tax, inheritance tax or capital gains if the property has been owned for more than five years."
Download your copy of Inside View, Italy 2016 here.